Hortense and Joseph Constans buy the hotel
Anne-Marie Hilaire takes over as director
David Hilaire joins the Hotel
Etienne Hilaire joins the Hotel
Emmanuel Hilaire joins the Hotel
"A family history for 3 generations"
It all began when Hortense and Joseph Constans, back from the colonies, bought the hotel in 1956. Upon their death, Anne-Marie Hilaire took over the management for more than 40 years. In 1998 David, in 2003 Étienne and finally in 2013 Emmanuel, Anne-Marie's children, joined the Hôtel Albert 1er.
Todaythe 3 Hilaire brothers perpetuate the lineage of hoteliers with success. Thanks to them, the Albert 1er, which has become more than a hotel but an address in Toulouse, has been able to rediscover some of its origins by hosting an exhibition of paintings and sculptures, which honors the former occupant of this location, the Toulouse painter Pierre Rivals.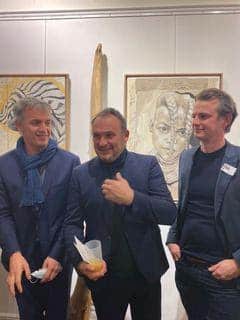 ALBERT 1st of Belgium (1875 – 1934)
Prince Albert succeeded his uncle King Leopold II, and took the constitutional oath on Thursday 23 December 1909. Continuing the work of his illustrious predecessors, King Albert I, who had begun his reign under the auspices of the Brussels Exhibition of 1910, was soon dragged into the turmoil of the First World War. With calm, with an admirable greatness of soul and a deep sense of service to the Nation, King Albert I, assisted by Queen Elisabeth, was able to maintain the morale and energy of the Belgian army. He returned victorious to his capital and devoted himself entirely to his "profession of King".
In 1934, at nearly sixty years of age, he had a season of ascents to his credit that was admired by all mountain enthusiasts. It was in the middle of a climb that the fatal fall occurred, which stopped the beating of a big heart forever. As one of his faithful companions wrote: "But at least the King ended his earthly life as he had always wished: in one fell swoop, without old age". After the death of the Sovereign, Queen Elizabeth continued her role as patron of the arts and science. In the field of music, thanks to her initiatives, she gave Belgium a worldwide reputation.