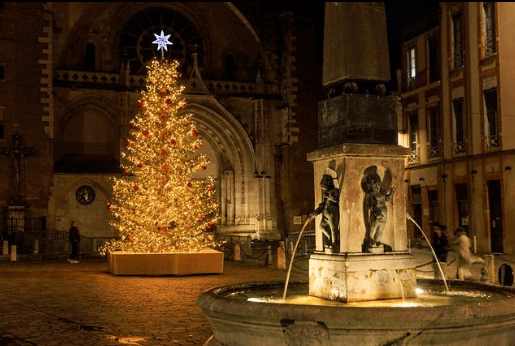 The end of year celebrations at
Toulouse
To keep the kids busy during the vacations, to get out and about to get rid of the excesses of the table, or simply to have a good time: make your choice from this selection of events selected by our team to enjoy the best moments of the end-of-year holidays.
Visit Santa's house and meet his elves.
From December 1 to January 3, Santa Claus will open the doors of his house to good children on the Place du Capitole. An ultra-realistic decor! You can even meet Santa's elves there.
The Christmas illuminations.
They are everywhere, they make our childish soul shine. Toulouse offers us its magnificent fir tree in Saint Etienne and a gigantic fir tree Jean Jaurès, the lights of the fountain Goudouli, the luminous ceiling of the street Alsace Lorraine… The whole city center is shining.
Make a wish in an enchanted forest.
Right next to Santa's house, you will discover the Forest of Wishes… Drawings, little words, wishes from children and adults hang here on the branches of the trees.
Make a ballad of goulu.
Succumb to the pleasure of gourmet stops to enjoy a good pancake or a waffle. Otherwise, give in to the smell of roasted chestnuts!
Attend the shows and the Christmas parade.
Every year, during the month of December, the city of Toulouse offers a new program of shows and magical animations. Performances that are as fun as they are breathtaking.
Drink a hot chocolate at Père Louis.
At Père Louis, it is one of the oldest establishments in Toulouse. Opened for the first time in 1889, the address of the rue des Tourneurs, its facade and the first room are even registered as historical monuments.
Eat a raclette in an igloo.
The Friche Gourmand is transformed in winter and becomes a ski resort! You can only eat raclette with real melted cheese and potatoes in the gondolas and igloos.
Enjoy a delicious Christmas menu.
There is nothing like the good addresses in Toulouse to enjoy a delicious moment of conviviality with your loved ones.
Celebrate the new year with music!
The New Year's concert is one of the major events of the Toulouse National Capitole Orchestra's season, which brings together young and old alike to perform the most important works of its repertoire on December 30 and 31 as well as on January 1.
Christmas shopping in the beautiful boutiques of Toulouse.
Stroll through the cobbled streets and push the door of the small stores that are real gold mines when it comes to finding the perfect gift! You will certainly find what you are looking for in the trendy and creative boutiques and jewelry stores of the Saint-Georges district!